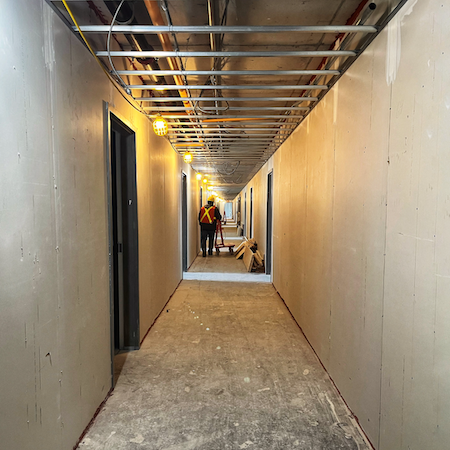 Cambridge Drywall: Your Go-To Partner for Excellence in Drywall Services
If you're seeking an experienced and trusted partner for your commercial and industrial construction projects, look no further. Cambridge Drywall, the preeminent choice in the industry, offers exceptional drywall services with a sustained commitment to excellence. Our meticulous attention to detail and effective project management position us as the reliable partner you can trust.
Having tackled expansive commercial buildings and large-scale industrial complexes, we confidently handle projects of varying magnitudes. Our services range from interior and exterior metal stud framing, acoustic ceilings, insulation, drywall installation, and prefabricated cold-formed steel (CFS) panels.
A Mastery in Interior and Exterior Metal Stud Framing
Cambridge Drywall doesn't just offer metal stud framing services, we excel in them. Our proficient team carries out structural metal stud design and framing for commercial and industrial projects with precision. We guarantee sturdy structures built with robust materials designed to last.
Acoustic Ceilings: For a Quieter and More Harmonious Environment
Noise pollution is a common issue in commercial and industrial environments. At Cambridge Drywall, we specialize in providing high-quality acoustic ceiling solutions to counter this problem. We install ceilings that absorb sound, creating a quieter and more conducive environment for your workspaces.
Insulation Services: For Energy Efficiency and Comfort
We don't just build, we enhance. Our wide array of commercial insulation services is designed to increase your project's energy efficiency, comfort, and overall performance. By integrating traditional insulation and polyurethane foam insulation, we make sure your spaces stay warm in the winter and cool in the summer, providing you with a comfortable environment all year round.
Comprehensive Drywall Services: From Installation to Texture
Our drywall services are all-inclusive, covering installation, taping, and textured ceilings for various types of commercial projects. Our expert team ensures seamless installation and finishing, creating walls and ceilings that not only look great but also provide exceptional durability.
Prefabricated Cold Formed Steel (CFS) Panels: A Future-Ready Solution
In line with our goal of providing cutting-edge solutions, we offer a complete range of cold formed steel (CFS) solutions. These are ideal for a variety of projects, from commercial and industrial buildings to multi-story residential homes. Prefabricated CFS panels offer the benefit of being lightweight yet structurally strong, making them a go-to choice for modern construction.
Trust Built Over Two Decades
Established in 1999 as a family-owned and operated business, Cambridge Drywall carries a legacy of over twenty years. We are unrelentingly committed to customer satisfaction, standing by our core values with each project we undertake. Our success is built upon the trust and relationships we've formed with our clients over the years.
Don't hesitate. Contact us today, and let's begin the journey towards realizing your project with Cambridge Drywall — where quality meets craftsmanship.